Description
Royal AUSNZ Kids  Grow Up tablets
Australian Ingredients. Australian Milk. Australian Made.
ROYAL AUSNZ GROW UP tablets contains essential vitamins, mineral and various nutrients including lactoferrin – all required during the growing years. Designed to support and promote healthy growth and development. A yummy way for kids to grow strong and tall.
Kids Multivitamin
Lactoferrin for Immunity
Vitamin D3, K2, Calcium for health bone development
Vitamin B6, Lutein for eye and vision development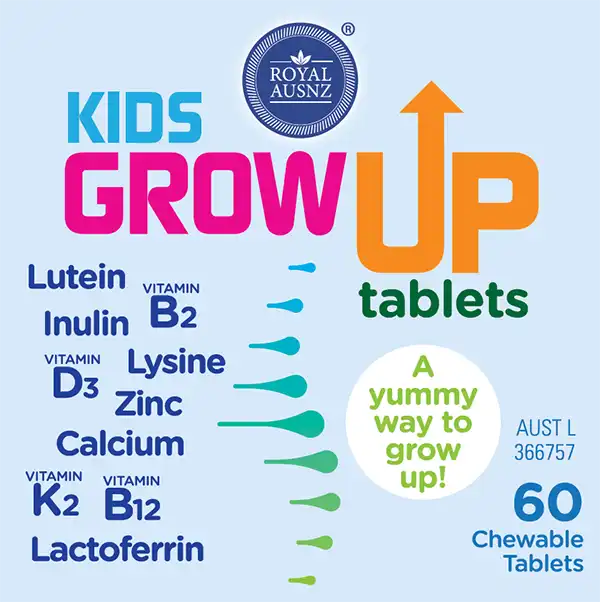 Ingredients
Bovine lactoferrin,Choline bitartrate,Citrus reticulata (Mandarin) fruit peel,Colecalciferol (Vitamin D3),Cyanocobalamin (Vitamin B12),α-alpha tocopheryl acid succinate (Equiv. Vitamin E- 2.79IU),Fructooligosaccharide (FOS),Hydroxyapatite (Milk Calcium) (Equiv. Calcium -37.5mg),Inulin,Lutein,Lysine hydrochloride,Menaquinone7 (Vitamin K2),Pyridoxine hydrochloride (Vitamin B6)(Equiv. Pyridoxine – 0.18mg),Riboflavin (Vitamin B2),Thiamine hydrochloride (Vitamin B1),Zinc gluconate (Equiv. Zinc -0.96mg)
Directions
1 to 6 tablets per day or as directed by your healthcare practitioner.
Warnings
Vitamin supplements should not replace a balanced diet. Contains milk & milk product. Contains lactose. KEEP OUT OF REACH OF CHILDREN Do not use if seal have been tampered with. Store in a cool, dry place under 30°C and away from direct