Royal AUSNZ Diabetic Formula Milk Powder
Low GI Index (tested by Sydney university)
GI index=20
Description
Diabetic Milk Powder
Experience Nutrition Tailored for Diabetics
Unveil a world of superior nutrition with Royal AUSNZ's Diabetic Formula Milk Powder. Crafted with devotion in the heartland of Australia, this exceptional blend is extracted from the prolific Murray River region of northwestern Victoria. Here, nature's best elements come together: a mild climate, nutrient-rich soil, untouched environment, and a plentiful supply of fresh water – forming the ideal pastures for our cows and providing you with nature's best diabetic milk powder.
Benefits Tailored for Diabetics
Low Glycemic Impact:

Tested and certified by Sydney University with a remarkable GI Index of 21, making it an ideal

milk powder for diabetics

.

Scientific Formulation:

This

diabetes milk powder

is a meticulously formulated nutritional supplement, ensuring that those with diabetes get the nutrients they need.

Holistic Health Boosters:

Enhanced with Lactoferrin for immune defence, a natural abundance of Australian Whey Protein for strength, and probiotics to aid in digestion.

Pure Australian Quality:

Extracted from 100% Australian cow's milk, our

diabetic formula milk powder

offers unmatched purity.

Nutrient Rich:

Delve into a world abundant in vital vitamins and minerals to complement the dietary needs of diabetic consumers.

Trustworthy Production:

Manufactured in Australia under stringent food standards and ensuring it's gluten-free for added peace of mind.

Packaging: Thoughtfully designed 20 sachets of 25g each, culminating in a net weight of 500g.
Dive into a blend of Whey Protein Concentrate, Whey Protein Isolate, Skim Milk Powder, Fructooligosaccharides (FOS), Inositol, Calcium Carbonate, and more. All coupled with a subtle hint of Vanilla Flavour Powder.
Directions for Use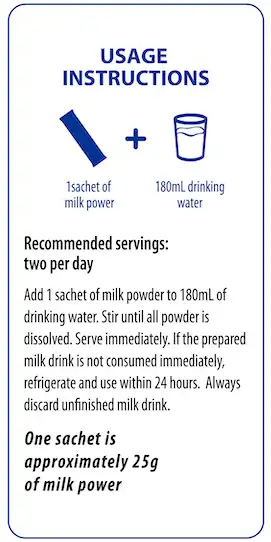 This diabetic formula is a supplementary food, crafted to support the dietary needs of those with diabetes needing additional energy and nutrients. Always seek advice from healthcare professionals before using. Ensure correct proportions are used and avoid heating in the microwave. Use before the expiration date and ensure sachet integrity. Store away from children's reach. 
Heads-up: Contains dairy and milk components.